Dedicated Relocation Consultant
The consultant who surveys your move will stay by your side from estimate through invoice. One point of contact to simplify life.
Locally Owned
We're from Austin, TX and aren't going anywhere.
Protection
Our primary concern is the safety of your home and belongings. We utilize floor and wall protection in your home and industry best practices and techniques when disassembling, padding, shrink wrapping and reassembling your furniture.
Experience
Our leadership touts over 65 years combined experience while working for some of the best moving companies in the world. We know best practices and train our crew and sales on how to use them.
Giving back
3% of each job is donated to a veteran's charity of our customer's choice. Employment opportunities are available for veterans.
Quality People
We wrote the book on paying better than the norm to attract, hire and retain high-quality individuals to fill our ranks. We're clean cut, polite, problem solving, well-spoken and interested in exceeding our customer's expectations.
Reputation
Austin is a small town and our reputation is paramount to us. We want to leave our customers will no expectation unfulfilled as our customer's voice is what drives our reputation. We'll go over and above to ensure our customers are smiling at the end of day. This way, we'll get more referrals 🙂
Simple Pricing
We offer flat rate pricing based on scope or simple, hourly rate billing using only the time spent moving. Our customers choose what works best for them.
Awareness
When we're charging hourly we realize the clock belongs to the customer. We hustle to move swiftly and efficiently to maximize value.
Insured
We're insured up to $5M in all categories.
Patriot Relo was formed when Kaleb and Derrick, owners of Expert Relocation Systems – an established commercial moving and furniture installation company – finally gave in to the demand for residential services from their existing clients. They decided to use this momentum to create an organization dedicated to top-tier residential moving while supporting and furthering the veteran community.
3% of each move is donated to a veteran's charity and employment opportunities are available for veterans. In July 2016, Kaleb and Derrick hired Blake, a 19 veteran of the moving industry, as General Manager and they ramped it up and opened shop. Now, with the guidance of over 60 years of combined experience, Patriot is operating at the highest level of quality and focusing on its objective of providing top-tier residential moves while supporting it's community
Kaleb Smith, President
Kaleb grew up in Dallas, TX and has called Austin home since 1999. Attending high school at Culver Military Academy, he graduated class of 1999. He then continued to college at UT Austin and graduated with a degree in Economics in 2003. He and his wife, Jill, are proud parents to Khloe and Sawyer. He enjoys spending time with his family, golfing, hunting and poker with his buds. He also loves all things food including cooking and grilling.
With a background in finance and a keen sense for attention to detail, Kaleb enjoys taking on the challenge of entrepreneurship and endeavors to constantly identify and implement key factors which lead to a healthy and financially sound organization. Kaleb's goal in his moving businesses, both Patriot and Expert Relo, is to give back to his community while bringing the highest quality product to each of his clients and exceeding all expectations for a moving company.
Q. Derrick Ellison, Vice President – Sales
Since 1999, beginning in College Station and continuing to Austin, Derrick has provided unwavering dedication and focus to his client's needs. Derrick's success has been achieved with a philosophy that a successful relocation is built around proper planning on the front end combined with fielding knowledgeable and professional crews.
Patriot Relocation is his newest endeavor since co-founding Expert Relocation Systems in 2008, which remains one of Austin's top commercial relocation companies. In looking forward to meeting customers, Derrick is confident Patriot Relocation has been tooled to meet the demands of his client's relocation and will result in moving them and their family forward to new beginnings.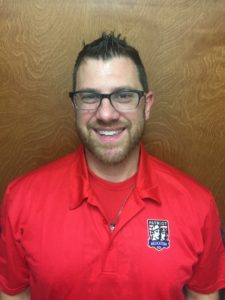 Ben Morgan, General Manager
Ben grew up in a suburb of Philadelphia Pennsylvania.  He has a daughter that attends elementary school in the greater Austin area.  Ben Graduated from Edinboro University of PA in the spring of 2000 with a BA in Broadcasting and Communications.  In addition to spending quality time with his family, Ben enjoys Golf, Basketball, Tennis, and anything Philly.  Ben is also an accomplished musician who has traveled all over the country to perform his music.
Ben's knowledge runs deep in the moving industry as his father was an officer in the US NAVY and was in the moving business from 1972 until he retired.  His family owned a North American Van Line Franchise for over 30 years in Philadelphia PA.  Ben was also an Ops manager for a fortune 100 company outside Cleveland OH.  With a strong background in sales and operations, Ben is what we call the total moving package in our industry.  He comes with the knowledge of a lifetime growing up in the business and has been nationally recognized for top 100 sales in the USA within SIRVA.  Ben works hard at coming up with solutions for customers and presenting them quickly.  Ben's attitude of customer first has reinforced and proven to be an asset to Patriot Relocation Company.